Rogers Beach – Visit Aruba's South End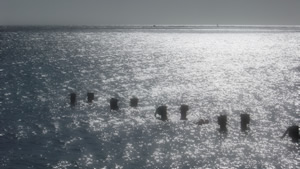 Some of the best views of Rogers Beach in Aruba actually can be found underwater. This is not because the views on land are not great because they are spectacular. It is just what is in the water that makes it better. This beach actually is in reef-protected water, so you have to snorkel if you go to this beach. You will be missing half the view if you do not. You can find this beauty near the southern tip of the island near Sint Nicolaas. Just like the rest of the Aruban beaches, this beach offers clear blue water and white powdery sand.
An interesting aspect of Rogers Beach is how it is situated. Part of the beach actually curves out into the Caribbean, which forms a lagoon with such warm water. It is a sight to see, as well as feel the marvelous water. Because it is at the southern tip of the island, you will be able to see the oil refinery off in the distance from the beach. Although it is close, it does not affect the water or beach in any way. They have it so none of the water is polluted whatsoever. This is not in view at all times, so you do not have to worry about having it right in the middle of all your photos.
What makes Rogers Beach a nice beach to go to for the day is that it is so secluded from the rest of the island. It is near Baby Beach, but that is about it. The majority of Aruba's beaches all can be found on the western side of the island, so you will not have as much traffic here as other places. They are worth the trip though, so do not be fooled by the small number of people there. Sometimes that makes for the best trips. You will find some great swimming in these waters.
Although you will not be able to stay at Rogers Beach because there are not any resorts or hotels, it is a short drive regardless of where you are staying. Aruba is such a small island that, even though the beach is on the other end, you are not even an hour away. If you want to see all of what Aruba has to offer, a trip to this side of the island is a must. The snorkeling will be great here.