6 Facilities And Services To Take Advantage Of At Brickell Bay Beach Club Aruba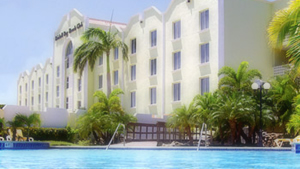 Located just 15 minutes from Queen Beatrix International Airport, Brickell Bay Beach Club Aruba has a plethora of facilities and services for you to take advantage of. From the superior rooms and suites to the brand new gym to the tasteful restaurants, you are sure to enjoy your stay at this classy resort. Here are six facilities and services you will find at Brickell Bay Beach Club Aruba.
1. Restaurants
When on vacation you want to be able to venture out and try new kinds of foods. With three restaurants on property you will be able to find exactly what you are in the mood for. One of the featured restaurants is Tomato Charlie's Pizza which offers a casual dining experience over-looking the Palm Beach Hotel strip. It includes appetizers, salads, pastas, and their famous Chicago style thin-crust pizza.
2. Pool
You simply cannot go to such a magnificent place as Aruba and not get outside to enjoy the weather. Brickell Bay Beach Club Aruba offers you a day around the pool area with Caribbean music in the background. The pool is open 24 hours a day and includes a swim-up pool bar that is open from 10 a.m. to 5 p.m. In addition, there is a lunch menu that is available from noon until 5 p.m.
3. Bars
When on vacation you want to kick back and relax as much as possible. There is no better way to do so than to head to the bar and at this resort there are two separate bars to choose from. This gives you the chance to try those exotic drinks you thought you would never get to try.
4. Gym
For some the thought of working out while on vacation is bizarre. For others, it is the perfect opportunity to work off some of that excess weight that is gained due to the amazing exotic foods. With a brand new gym to take advantage of, there are a number of machines and pieces of equipment for you to complete your entire workout.
5. Shuttle Service
To make things as easy as possible on yourself, there is a shuttle service so that you can enjoy the complete relaxation of vacation. The shuttle service offered at this resort will take you from the beach and back and will also run to the casino. This can save you the effort of having to walk back and forth every day of your trip.
6. Baby sitting service
The last service for you to take advantage of is the baby sitting service. While you will certainly want to experience everything there is to see at Brickell Bay Beach Club Aruba with the entire family, it is nice to get a night away from the kids to spend a romantic evening together.