The Flying Fishbone - On the Beach Dining in Aruba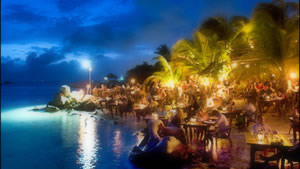 Located in the first capital of Aruba, The Flying Fishbone has been a staple of its community since it was established in 1997. It offers on-the-beach dining experiences combined with a very unique environment that you'll be hard-pressed to find elsewhere on the island. Savaneta, home to the Flying Fishbone, is the hometown of true fishermen everywhere, making it a great place for a seafood restaurant that caters to the needs of many types of guests. The restaurant is owned by Daniel Kameier and Frenk Graat, who wanted Aruba to have a true oceanfront restaurant.
When you visit a destination like Aruba, dining inside keeps you from enjoying the full island experience, which is why these two guys built the Flying Fishbone with all tables having oceanfront property. You can enjoy the ambiance of the ocean and the beach while enjoying a great meal. Whether you're traveling alone, with a group, or on a romantic getaway, this restaurant is worth a look for true beachside dining. The cuisine is European gourmet combined with Caribbean styles that Aruba is known for. There are two chefs who specialize in preparing fresh seafood and various meats to perfection. They have fine tastes and will only offer the finest foods for their guests.
The goal of the Flying Fishbone is excellence in every standard, from service to food quality to environment, and they seem to have accomplished it all. They're also well known for catering to events and special occasions, inviting guests to contact them in advance to make any necessary arrangements for their special meals. To the owners and the chefs, the restaurant isn't just about serving food. It's about giving guests the best experience possible by combining exquisite meals with beautiful scenery and a friendly and professional staff at their beck and call.
If you want a really cool dining experience, try one of the tables at the Flying Fishbone that is located in the water. That's right. Depending on the tides, you can enjoy dangling your feet in the seas while you enjoy a fabulous meal on the beach. Preferred seating can be requested by couples and smaller groups, while larger group accommodations are situated further up on the sand, but this can always be modified. Children are not unwelcome at the Flying Fishbone, but the purpose of the restaurant is naturally geared toward romance and an adult atmosphere. All of these elements serve to make this a wonderful option for dining in Aruba.