A Perfect Paradise In Aruba Beach Villas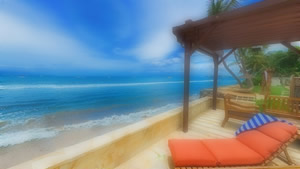 In Aruba you will find the cleanest most spectacular beaches in the world. The island of Aruba situated in the Caribbean offers powder white sands and crystal clear seas. Eagle Beach was named "Best Family Friendly Beach in the World" by Travel Magazine. You will want to make sure that the beaches of Aruba are your next destination. When planning a trip check out the Aruba Beach Villas and you will assuredly have a great vacation.
Villas offer a lot of privacy and security for your family and especially if you have children. Many of the villas offer yards and gardens that will please the children. There will be none of the noise and hustle of hotels. There are many beaches to choose from that offer beach villas as part of their accommodations.
Many provide all of your vacation needs from air conditioning and maid service down to beach towels and beach chairs. If you choose to cookout Barbecue grills are provided. For your water activities there is snorkeling equipment, kayaks and windsurfing available. For your convenience cable television and high speed internet while others offer in house computers. Televisions and stereo equipment can be found for quiet relaxing entertainment for the whole family.
Some villas are full sized homes. Offering fully equipped kitchens with spacious indoor and outdoor living areas. You can expect some to have in ground pools many with waterfalls or swim up bars. Hot tubs can be found at many also. All of this is surrounded by lush tropical gardens. With many located just steps from the beach these are a favorite for those special Caribbean weddings. A majestic and magical wedding site.
Consider renting a car during your stay. You may want to have transportation to and from the beach if you are not located directly on one. Also there are tons of shopping, restaurants and casinos you will want to take advantage of during your stay on the beautiful island of Aruba.
With villas there are plenty of private baths with hot water. You can also find villas that offer continental breakfasts a convenience that will be greatly appreciated so you can get your day started quickly. Villas are furnished with gorgeous tropical decor for indoor and outdoor living areas to enjoy those spectacular Caribbean sunsets.
Villas in Aruba range from affordable to the most luxurious. You can get the privacy and comfort you want along with the feel of home. If you choose the elaborate you will not be disappointed. They are sure to meet your expectations.
Some of the most popular beaches to find villas are Oranjestad, Palm Beach and Eagle Beach. These are the areas where there is the most shopping, activities, restaurants and many other things to do. There will be so much to do you may have to make a list to get it all accomplished. Be sure to plan your stay long enough so you don't leave anything out.
Aruba Beach Villas come in all shapes and sizes and all price ranges. There is no doubt you will find one that will be perfect for your vacation whether you are single, couple or a family. It will make for a comfortable pleasant time spent on the Caribbean enjoying the majestic sunsets.