Sonesta Airplanes – A Must See Dive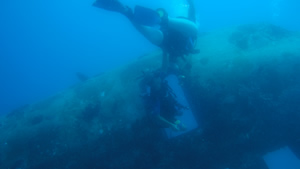 If you are planning on visiting Aruba and are into scuba diving then you cannot miss taking a dive at the Sonesta airplanes wreck sites. This is a unique and pleasurable experience you will not soon forget. Seeing these planes lying in water up close and personal is a once in a lifetime opportunity for most people. It is an exciting and fascinating dive that brings you nose to nose with some of the most beautiful sea life Aruba has to offer whether you are a seasoned professional diver or an amateur.
The Sonesta airplanes site includes two separate aircraft. The first, a Convair 400 lies in 40-60 feet of water and like its counterpart a Beech 18, is almost fully intact. The Beech 18 sits in about 15 feet of water on a sloping reef that point downward to 100 feet. The scene at first may be a bit eerie but as you focus your attention on all the sponges and coral, it soon becomes a thing of beauty. The sea life that lives in and around the aircraft is plentiful and the colors are astounding. If you are lucky, you may even be able to see some moray eels getting ready to feast. Just make sure you are not the main course! It is always good to give them some distance, especially at feeding time.
If you happen to be into underwater photography, the Sonesta airplanes wreck sites are definitely for you. Some seriously spectacular photographs have been taken at the site. You could literally spend hours and hours getting perfect and spectacular sites of the planes themselves and the sea life living in and around them. This is a photographer's dream. The soft corals are breathtaking and deserve a few shots to take home with you.
An Aruba vacation coupled with a visit to the Sonesta Airplanes wreck site will certainly be a memorable affair. With all the island has to offer in terms of pristine beaches and gorgeous landscape you can't go wrong. But, add in the intrigue and wonder of this superb dive site and your vacation is more than complete. You can visit the wrecks yourself or with any of the available dive tours. It is recommended to take an experienced dive tour guide with you to make sure you experience all the site has to offer. There is nothing like local knowledge when scuba diving.