Heli Tours - Sea Aruba from the Sky!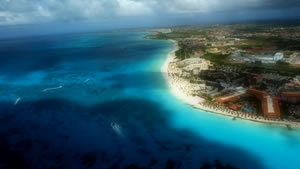 Aruba is a gorgeous island in the Caribbean, unique from other islands in the area because the climate is more dry and arid than other Caribbean islands. Imagine taking in the view of the stunning landscape from above! With Aruba's predictable climate, heli tours are easy to arrange and extremely seldom require a rescheduling due to weather. Truth be told, there are numerous memorable activities to take part in on the island, but one most recommended and unforgettable is a tour from the sky.
If you think walking the beaches is an enjoyable experience, imagine getting a bird's eye view of the entire shore all the way to the horizon with Aruba heli tours. Survey the rocky shores, sandy beaches and rolling terrain from a point of view you have never experienced before. Tours are not too long and easily fit into your busy, sightseeing day in Aruba. Even if you only have an hour or less, these relatively short tours are provided for those who want to see Aruba from above but have other things to do that day, as well. A sunset ride is a recommended tour to take with in-flight dining. What an unforgettable experience! Watch the gorgeous sun fall below the horizon from an angle usually only the birds get to appreciate while dining on scrumptious cuisine.
Different heli tours offer different options of what parts of the island you fly over. A short tour may give you a peek of the island's lovely beaches lined with world class hotels. The well known "Antilla" German freighter shipwreck, the renowned California Lighthouse and the graceful Tierra del Sol Golf Course can all be visible from a single tour. A short flight like this one is ideal for visitors who are experiencing their first helicopter flight and wish to understand the excitement of what it feels like to fly. Longer tours are a great way to see the entire island from above in a single tour.
Remember the option of heli tours in Aruba before you decide to spend more money and much more time trying to squeeze in a look at as much of the island as you can during your stay. This is an absolute ideal way to see the island in a unique, resourceful way. If you are tentative about riding in a helicopter, rest at ease. The helis are comfortable, quiet and equipped with superior leather seats. The smooth, luxurious flight will be one you will remember for a lifetime.