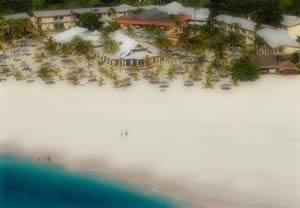 If you want to experience a proper Caribbean Vacation then you absolutely need to look into the Manchebo Beach Resort. Located on Eagle Beach, this beautiful resort is the perfect place to head for romantic getaways, family vacations or simply for a treat to you.
There are 72 rooms spread out over 2 floors in the Manchebo Beach Resort. This makes it one of the smallest in the area. You really do get to feel the tranquillity. There are four different room types for you to select from, but all of them are incredibly luxurious and a joy to stay in. All include a 32" TV, Wi-Fi, Telephone, Air Conditioning, a Daily Maid service and much more.
The beach at the Manchebo Beach Resort is absolutely gorgeous. Here you can spend your time under one of the 40 Cabanas, relaxing and taking in the beautiful views of the glistening water which stretches out for miles. Manchebo has dedicated staff on the beach to help you out. This includes a cocktail waitress who will deliver your ice cold drinks to you as you relax! Talk about luxury right?
If you are opting for the all-inclusive package at the Manchebo Beach Resort then you will be pleased to know that you have access to three different restaurants. All of these serving up a slightly different type of food. For example, you can taste some gorgeous French Food at the 'French Steakhouse'. Sample some Mediterranean & Caribbean Food at 'Ike's Bistro' or go a bit more casual and munch away at the Pega-Pega café on the beach. Those that opt for the all-inclusive package will have all of their drink deliveries on the beach catered for too!
If you are looking to relax a bit more then you will be pleased to know that the resort includes a spa….right on the beach. Here you can get lovely massages, do a bit of yoga, a facial, mask or even a complete body wrap. The choice is yours. Whatever you opt for though, you can be sure that you will be leaving the space full revitalized.
When you stay at Manchebo you will be just a few minutes away from Oranjestad, which is a gorgeous city, and of course the capital of Aruba. It is packed to the brim with all sorts of shopping and culinary delights. You will love it. You will be able to just walk here.
Honestly, there is so much to do at the Manchebo Beach Resort & Spa it is nigh on impossible to include everything in such a short space. If you are looking for a brilliant vacation which really does give you a taste of the Caribbean life then a stay at this resort should be top of your agenda. If you really want to 'splurge' then you will be pleased to know that Manchebo Beach Resort & Spa offers a number of different packages for those who have specific goals that they want to achieve when they come to the resort. It is worth checking those out too.
Visit Manchebo Beach Resort Website