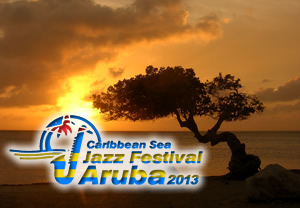 If you absolutely love music then you need to head to Aruba during the time of their largest festival. Let me introduce you to the Caribbean Sea Jazz Festival. Held in early October 2013, the festival is currently aiming to be bigger and better than it has ever been, and with the schedule they have already lined up I am inclined to agree with them.
The Jazz Festival was only established in 2007, but every year it has gone from strength to strength. It now has people flocking from all over the world to sample the brilliant acts that the festival always has to offer. This year for example you will be able to see a number of popular jazz musicians perform live including El Gran Combo, Willy Garcia and George Benson. These top acts are mixed up with a number of regional and local acts to give you a real broad spectrum when it comes to the music. There are three different stages at the Jazz Festival. They will all be in usage at the same time. This gives you a real choice when it comes to selecting whose beautiful sounds you wish to listen to.
Whilst the music is the main draw for people at the Caribbean Sea Jazz Festival, it is not the only reason why people come here. Perhaps one of my favourite things about the festival is the amount of gorgeous food there is to sample. The food court does a pretty good job of collecting top chefs from around the world who will serve you up everything from Caribbean delights all the way through to a bit of Sushi. Trust me, when you visit the Caribbean Sea Jazz Festival you will leave incredibly well fed!
In addition to this, an art expo is being planned for the event this year. Here you will be able to see some gorgeous regional and local art work. It really is shaping up to be something pretty amazing. Whilst details are pretty sketchy at the moment, we do know that it is going to provide you with a bit of a break from the music. It also will show to you just how talented the artists are on the island of Aruba.
If you absolutely love Jazz Music, or Music in general then do make plans to head to the Caribbean Sea Jazz Festival this year. You will love it, and it will be an experience you will not forget any time soon. This year the festival will be held at the 'Renaissance Festival Plaza' on Friday October 4th and Saturday October 5th 2013. Both of these days have different acts on show, and the ticket price covers you for both of these days. If you get your tickets in early you will be able to enjoy the 'Early Bird Special' which is only $35 for the 3 days. This is a complete bargain when you realize what you are going to be getting for your money!