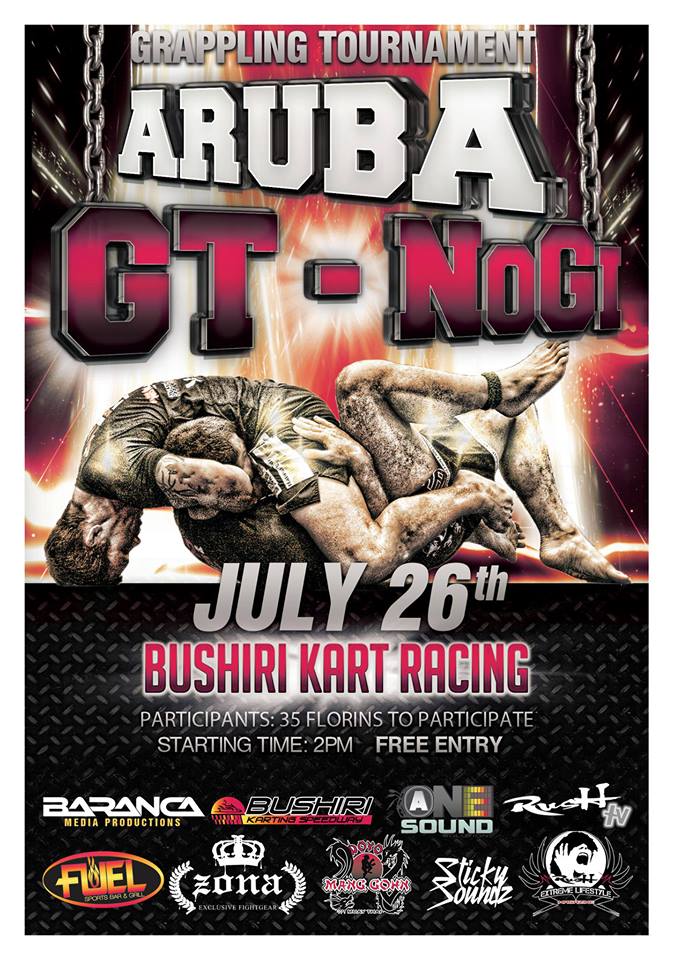 Aruba Grappling will have the largest Submission Grappling tournament in Aruba that will have both spectators and competitors from all over the world. The Grapplers levels are divided into two: beginners and advanced levels. Competitors will get to fight everyone who is in their category. Prizes will be given for those who come 1st, 2nd and 3rd for all the weight classes and also for the best team. The sponsors will also avail special prizes for all category winners.
For Beginners a white belt BJJ or less than 2 years experience in ground fighting.
For Advanced at least blue belt BJJ or over 2 years experience in ground fighting.
Our Grappling Tournament will use the rules of the IBJJF point system. Besides this, participants are allowed to use all chokes and locks but no slams are allowed. The referees who will be there know all the rules and they have had a couple of years experience being referees.
The Weight Classes are
Men
Beginners -71 kg Advanced -71 kg
Beginners -73 kg Advanced -73 kg
Beginners -79 kg Advanced -79 kg
Beginners -85 kg Advanced -85 kg
Beginners -91 kg Advanced -91 kg
Beginners +91 kg Advanced +91 kg
Women
The beginner category will have the -60kg category and the +60kg category only.
The women advanced category will also only have the -60kg category and the +60 kg category.
The event will take place on JULY 26th at Bushiri Karting Speedway. The address to the venue is #25 Location. The venue is on the dirt road that is behind the very famous Ling and Sons supermarket. Anybody from around there can show you the supermarket.
The Time Schedule for Aruba GT 2013 is as follows.
It is important that you arrive 30 minutes before the start of your category. This time will be used for weigh in and check up so as to ensure that everyone is qualified to get in to the competition.
The Beginner -67 kg category starts at 03.00 pm
The contestants will be the following.
Juaquin Cardona of Extreme Gym / Barak FG
Jefri Gonzalez of Extreme Gym / Barak FG
Santiago Bueno of Extreme Gym / Barak FG
Joshwin Fingal of Extreme Gym
Luis Luvet of Uptown BJJ
Raydal Wester of Team Agua Aruba
Jethro st Fleur of Golden Victory
Anderson montes of Golden Victory
Jean britus of Golden Victory
Advance -67 kg will start at 04:00pm
The contestants will be,
Sten Carlet - Renzo Gracie Holland/ Kame House
Darren Jansen - Team Agua Aruba
Reymond Maduro - Uptown BJJ
Gerald Kelly - Uptown BJJ
The Beginner -79 kg 04:30pm
The contestants are,
George Enser of Uptown BJJ
Yevgen Medvedyev of ETU
Paul Velasquez of ETU
Angelo De Freitas of Team Agua Aruba
The Advance -85 kg will start at 05:30pm
The contestants are,
Ceasar Geerman
Alex Perez - Extreme Gym
Gabriel v/d Biezen - Barak FG
Joshue Solognier - Barak FG
Juan - Gracie Barra Aruba
Jason Loopstok - Gracie Barra Aruba
The Beginner +91kg will start at 06:30pm
The contestants will be,
Melvin Winterdal - Uptown BJJ
NjoNjo - ETU
Jean Carlos Croes - ETU
Halroy Hudson - Extreme Gym / Barak FG
The Advance +91kg will start at 06:45pm
The contestants will be
Gregory Milliard - Extreme Gym / Barak FG
Gulliano Rasmijn - Uptown BJJ
Albert Franken - Team Agua Aruba
Guido Carlo - ATF Militia