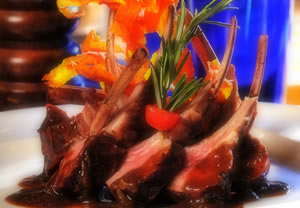 Looking for some fine dining in Oranjestad, Aruba? Check out the Yemanja it has received the 2012 Award of Excellence from the travelers helper Trip Advisor. They serve Shrimp, Angus Beef, Pork Chops, Grouper, Duck, Chicken with a Caribbean Flavour. It is truly a wood-fired grill, using hickory and mesquite for exquisite flavour.
This restaurant is easy to reach as it is just down the block from the Renaissance Hotel. Only two blocks from the yacht harbor. Of course they have both outside dining and an air-conditioned dining room.
Friday night is happy hour with half priced drinks and a good wine list. With wines from France, Italy, Argentina, New Zealand and the Napa Valley,CA, you will certainly find something to your liking.
They have a flair for presentation as the meals are photo worthy. With such entree's as Grouper Italiano with Gouda, and Herb-crusted Chilean Sea Bass among the favorite sea food entree's.
Have a taste for some real meat? Why not try the Grilled Creole Pork Chop with mustard sage sauce or the Rib Eye with Chimichurri sauce.
Oh yes, they have something for the vegetarians too. How does a Vegetable Tempura with a Sweet Chili Soya Sauce sound? And their signature salad mixed green salad with wood-fire grilled vegetables is for all to enjoy.
So is your mouth watering yet? You haven't forgotten to leave room for dessert have you? The dessert menu is amazing and unique. Ever tried a Gran Mariner Creme Brulee with Orange Chutney? Or Walnut Ice Cream with Caramelized Walnuts and Hot Espresso? What a way to end a meal!
Unless a little coffee is your way to end a meal. You will find delicious espresso and cafe au lait. If you prefer your coffee with a kick check out the Yemanja Mint Liquor and Chocolate or the Aruban Ponche Crema, just two examples of creative brews.
You know its the islands so of course the kids are welcome. We have created meals with them in mind as well. They will get the same great wood-fired taste in child sized portions. The kids choice of potato, the beloved french fry is of course on the menu. And we haven't forgotten their love of pasta. So we've prepared that for them too.
Yes, Aruba is beautiful and the sea is glorious but, you must get out of the water to eat. So when you do it should be just as relaxing and pleasurable. That is why Yemanja is here. Let us take care of your insides while our warm, sandy beaches care for your outsides.
You find us on the web at www.yemaja-aruba.com where you will see beautiful pictures of much of our delicious fare. There you will also find the directions to our restaurant. We have also provided you with the opportunity to make reservations online. You may choose your desired seating inside non-smoking or al fresco smoking. Let us know if you are celebrating a special occasion.
See you soon!
Resources: Yemanja Wood-fired Grill, Yemanja Facebook (picture)